Because it is impossible to read all the good, and interesting books available on the market we created five years ago "The professional Reading Club".
A meeting of minds where we offer you a selection of books, and then afterwards we elaborate each month a summary, and review of the best tittles.
Since we started this activity we have analysed more than 40 books for you. So now you have the access to an extensive library that will help you in a quick and easy way to use best practices, with tools and professional strategies combine to improve your English.
Each month you can read a new review completed by videos, interviews, and relevant documents, etc. In these article you can see the next books we are going to work with until the end of this year. Don't forget that we look forward to your participation and collaboration by sheering yours points of view.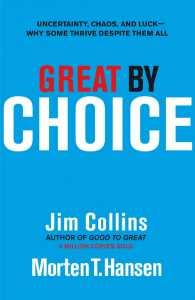 SEPTEMBER: GREAT BY CHOICE. Jim Collins
"Ten years after the worldwide bestseller Good to Great, Jim Collins returns with another groundbreaking work, this time to ask- Why do some companies thrive in uncertainty, even chaos, and others do not? In Great by Choice – based on nine years of research, buttressed by rigorous analysis and infused with engaging stories – Collins and his colleague, Morten Hansen, enumerate the principles for building a truly great enterprise in unpredictable, tumultuous, and fast-moving times. o mere sequel, Great by Choice distinguishes itself from Collins's prior work by its focus not just on performance, but also on the type of unstable environments faced by leaders today. With a team of more than twenty researchers, Collins and Hansen studied companies that rose to greatness – beating their industry indexes by a minimum of ten times over fifteen years – in environments characterized by big forces and rapid shifts that leaders could not predict or control. The research team then contrasted these "10X companies" to a carefully selected set of comparison companies that failed to achieve greatness in similarly extreme environments.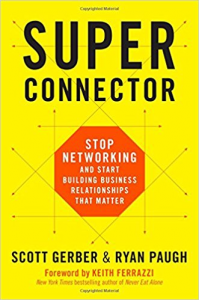 OCTOBER: Super Connector. Stop Networking ans start building business relationships that matter. Scott Gerber& Ryan Paugh:
STOP NETWORKING. Seriously, stop doing it. Now. It is time to ditch the old networking-for networking's-sake mentality in favor of a more powerful and effective approach to creating and enhancing connections. In Superconnector, Scott Gerber and Ryan Paugh reveal a new category of professionals born out of the social media era: highly valuable community-builders who make things happen through their keen understanding and utilization of social capital. Superconnectors understand the power of relationship-building, problem-solve by connecting the dots at high levels, and purposefully cause different worlds and communities to interact with the intention of creating mutual value.
How can you become a Superconnector? Gerber and Paugh share instructive anecdotes from a who's who roster of high achievers, revealing how to systematically manage a professional community and maximize its value. Of utmost importance is practicing Habitual Generosity, acting on the knowledge that your greatest returns come when you least expect them, and that by putting others' needs first the good karma will flow back to you tenfold. Gerber and Paugh also explore winning strategies such as The Art of Selectivity, a well-honed ability to define which relationships matter most for you and decide how you will maintain them over time. Full of helpful advice on how to communicate with anyone about anything, Google-proof your reputation, and much more, Superconnector is a must-read for those seeking personal and business success.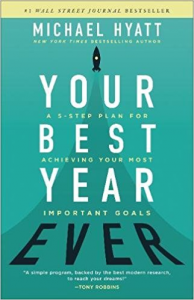 NOVEMBER. YOUR BEST YEAR EVER. Michael Hyatt. We all want to live a life that matters. We all want to reach our full potential. But too often we find ourselves overwhelmed by the day-to-day. Our big goals get pushed to the back burner–and then, more often than not, they get forgotten. New York Times bestselling author Michael Hyatt wants readers to know that it doesn't have to be this way. In fact, he thinks that this is the year readers can finally close the gap between reality and their dreams.
In Your Best Year Ever, Hyatt shares a powerful, proven, research-driven system for setting and achieving goals. Readers learn
how to design their best year ever in just five hours
– three simple ways to triple the likelihood of achieving their goals
– how to quit-proof their goals
– what to do when they feel stuck
– and much more
Anyone who is tired of not seeing progress in their personal, intellectual, business, relationship, or financial goals will treasure the field-tested wisdom found in these pages.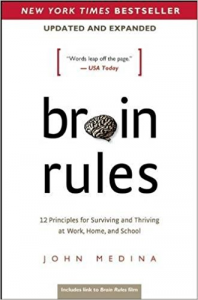 DECEMBER. BRAIN RULES- JOHN MEDINA
Most of us have no idea what's really going on inside our heads. Yet brain scientists have uncovered details every business leader, parent, and teacher should know—like the need for physical activity to get your brain working its best.
How do we learn? What exactly do sleep and stress do to our brains? Why is multi-tasking a myth? Why is it so easy to forget—and so important to repeat new knowledge? Is it true that men and women have different brains?
In Brain Rules, Dr. John Medina, a molecular biologist, shares his lifelong interest in how the brain sciences might influence the way we teach our children and the way we work. In each chapter, he describes a brain rule—what scientists know for sure about how our brains work—and then offers transformative ideas for our daily lives.
Medina's fascinating stories and infectious sense of humor breathe life into brain science. You'll learn why Michael Jordan was no good at baseball. You'll peer over a surgeon's shoulder as he proves that most of us have a Jennifer Aniston neuron. You'll meet a boy who has an amazing memory for music but can't tie his own shoes.
You will discover how:
Every brain is wired differently
Exercise improves cognition
We are designed to never stop learning and exploring
Memories are volatile
Sleep is powerfully linked with the ability to learn
Vision trumps all of the other senses
Stress changes the way we learn
In the end, you'll understand how your brain really works—and how to get the most out of it.